Ar bīdreibu atteisteibys īceru i potencialuos sadarbeibys aicynuojumu prezentacejom 22. julī Līpuojā nūsaslēdzs programys "NVO Izaugsmis inkubators", kuru eistynuoja Līpuojis organizaceja "Impact HUB Liepāja" pyrmais cyklys. Treis mienešu garumā navaļstiskūs organizaceju dalinīku nu dažaidu Latvejis vītu sajieme dažaidys praktiskuos zynuošonys nu pīredzejušim NVO i biznesa sferys specialistim. Programā pīsadaleja ari bīdreibys "LgSC" komanda – Edeite Husare, Amanda Anusāne i Laura Melne.
Kūpā "NVO Izaugsmis inkubatora" programā pīsadaleja 19 organizaceju nu Līpuojis, Dīnavydkūrzemis nūvoda, Brūcānu, Kuldeigys, Dundagys i Augšdaugovys nūvoda. Pasuokumā sovys organizacejis atteisteibys ceļu, sadarbeibys vareibys i dabuotūs lobumus "NVO Izaugsmis inkubatora" programā prezentēja bīdreiba "Brocēnu hokeja klubs", bīdreiba "4D – Darbs. Dienes. Drošība. Demokrātija", Kūrzemis regiona audžusaimu bīdreiba "Estere", bīdreiba "Keep the Change", bīdreiba "Mantinieki", bīdreiba "LgSC", bīdreiba "Patvērums ģimenei", bīdreiba "Radi Vidi Pats", bīdreiba "Roku rokā RR", nūdybynuojums "Sociālā atbalsta un izglītības fonds (SAIF)", bīdreiba "Tabitas Sirds" i bīdreiba "Ziemupīte".
""NVO Izaugsmis inkubatora" programa paleidzēja objektivi pasavērt iz myusu organizacejis asūšū situaceju i atguoduot tuos mierkus, kas beja dasamiersuši. Pasasokūt itai pīredzei, ar jaunu jaudu kaļsim plānus iz prīšku i sūli pa sūļam tūs eistynuosim," stuosta bīdreibys "Keep the Change" vadeituoja i "NVO Izaugsmis inkubatora" dalineica Andra Štāle. "Kotra programys nūdarbiba deve sovu davīnuotū vierteibu – cytureiz tei beja motivaceja turpynuot aizsuoktū, cytureiz atbolsts i uzmundrynuojums, nu leluokā daļā tys beja atguodynuojums i "gryudīņs" dareit tū, kū gribim, kas pasadūd i ir svareigs sabīdreibai."
"Pīsadaleišona "NVO Izaugsmis inkubatorā" ir atkluojuse plašuoku skotupunktu iz sovim resursim, apsazynojūt vareibys, kas ir daīmamys i da ituo nav tykušys tik daudzi nūvārtātys. Mani īdvesmuoja uzjiemiejdarbeibys principu pīeja NVO darbeibai, jo tei veicynoj kai bīdreibu darbeibys kvalitatis pīaugumu, tai spieju sasnēgt sabīdreibai svareigu problemu rysynuojumus," puordūmuos doluos bīdreibys "LgSC" vaļdis prīšksādātuoja i "NVO Izaugsmis inkubatora" dalineica Edeite Husare. "Programa deve vareibu dzierdēt īdvasmojūšu, motivejūšu i pīredzis boguotu personeibu lekcejis, kai ari individualuos konsultacejis paleidzēja sasagataveit nūslāguma prezentacejom. Tys leluokais, kū mes dabuojom itamā pīredzē, ir ari skotupunkta pameišona: vareiba definēt kai ba specifisku i ruodīs regionalu problemu uorpus Latgolys konteksta. Tys motivēja lobuok īsavuiceit sevi prezentēt, puorlīcynuot i aizraut tai, kab myusu rysynomī vaicuojumi teik saprūtami ari cytūs Latvejis regionūs, i puorejī nūtycātu, ka myusu darbeiba ir vajadzeiga i svareiga. Prīcojamīs, ka kūrzemnīki myus pījēme sovā "puļceņā" i nūteikti vysus doromūs dorbu ceļvežus, kū dabuojom programā, varēsim izmontuot ari tuoļuokajā darbeibā."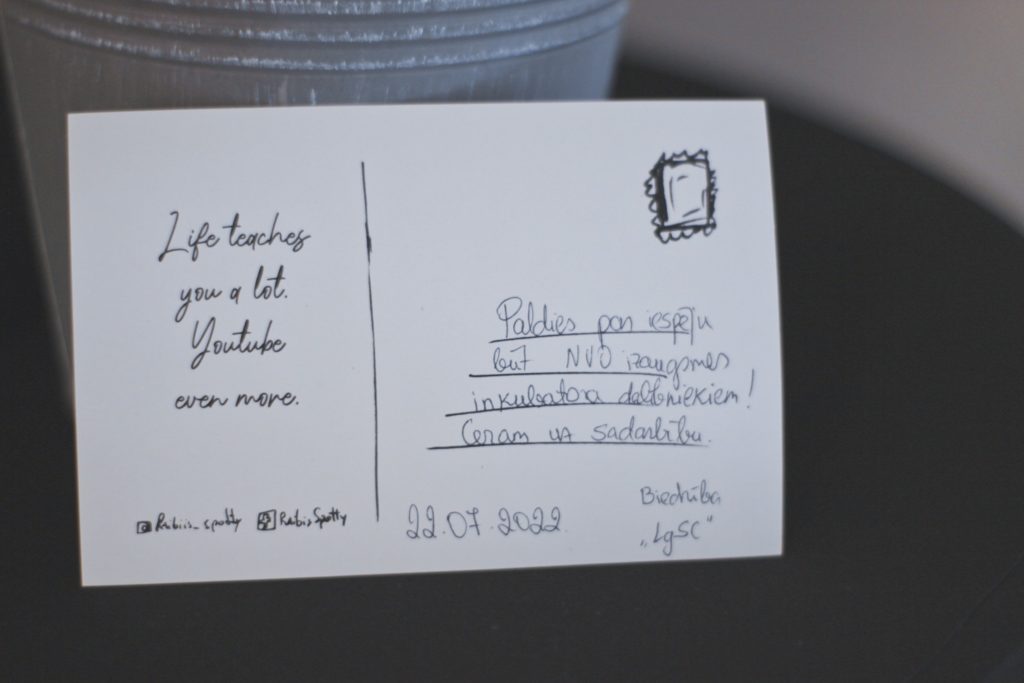 "NVO Izagusmis inkubatora" treners i bīdreibys "Impact Hub" vaļdis prīšksādātuojs Salvis Ruoga tur, ka navaļstiskuos organizacejis ir svareigs, nu da gola šaļtim nanūvārtāts resurss pošvaļdeibom i vaļsts sektoram: "Asu lapnys par bīdreibu vadeituojim i puorstuovim, kas treis mienešu garumā struoduoja pi sovys organizacejis nūviertiešonys, mierku formuliešonys i meklēja atbiļdi ruodīs iz taidu vīnkuoršu vaicuojumu – "deļkuo es doru tū, kū es doru?" Juosoka, ka nauda ir tabu temats myusu sabīdreibā, tok bez tuos nav vareibys padareit itūs lobūs dorbus, kū dora navaļstiskuos organizacejis. Voi tī byutu zīduojumi, projekti voi pakolpuojumu puordūšona – maņ ir lela prīca, ka bīdreibys apsazynoj finansiejuma pīsaistis īspiejis i ir gotovys dorbuotīs vēļ aktivuok kai da ituo."
Ar nūslāguma prezentaceju Līpuoja bīdreibu "LgSC" puorstuovēja tuos projektu vadeituoja i aktivitašu organizatore Amanda Anusāne, sajemūt lobys i styprynojūšys atsauksmis kai par gola prezentaceju, tai bīdreibys padareitū programys laikā. "LgSC" itamā programā īsasaisteja, dūmojūt par kapacitatis styprynuošonu, kas ir vīns ari nu Aktivūs īdzeivuotuoju fonda atbaļsteituo projekta aizdavumu kai pi bīdreibys strategejis atjaunuošonys dorba, tai jo eipaši pi saimnīcyskuos darbeibys dažaiduošonys. Jo eipaši lelu paļdis "LgSC" soka sovai atbolsta personai programā – Vilim Brūverim, kura īsacejumi i konsultacejis cīši paleidzēja gola prezentacejis i bīdreibys stuosta formuliešonā.
Taipat "LgSC" prezentacejis nūslāgumā ari Līpuojis "Impact Hub" sajieme simbolisku akcejis "Latgalīšu volūdai draudzeiga vīta" uzleimi, jo programys laikā ar interesi raudzeja latgaliski ari īsavuiceit kaidu vuordu i niu par latgalīšu kulturu ir daudzi zynūšuoki.
________
Bīdreibys strategejis atjaunuošona i saimnīcyskuos darbeibys paplašynuošona ir vīnys nu projekta "Bīdreibys "LgSC" kapacitatis styprynuošona piļsūniskuos sabīdreibys i īdzeivuotuoju leidzdaleibys veicynuošonai i tūs interešu puorstuoveibai Latgolys regionā" aktivitašu. Projekts teik eistynuots nu 2021. gods 1. maja da 2022. gods 31. oktobra i sajiems atbolstu Aktivūs īdzeivuotuoju fonda kapacitatis projektu konkursā. Projekta finansātuojs ir Islande, Lihtenšteina i Norvegeja.